In January in Essen, 4 impact projects on the Key Topics Working Conditions, Water use, Agrochemicals and Supply Chain Transparency set up by FSI members and co-funded by IDH, the Sustainable Trade Initiative were officially launched: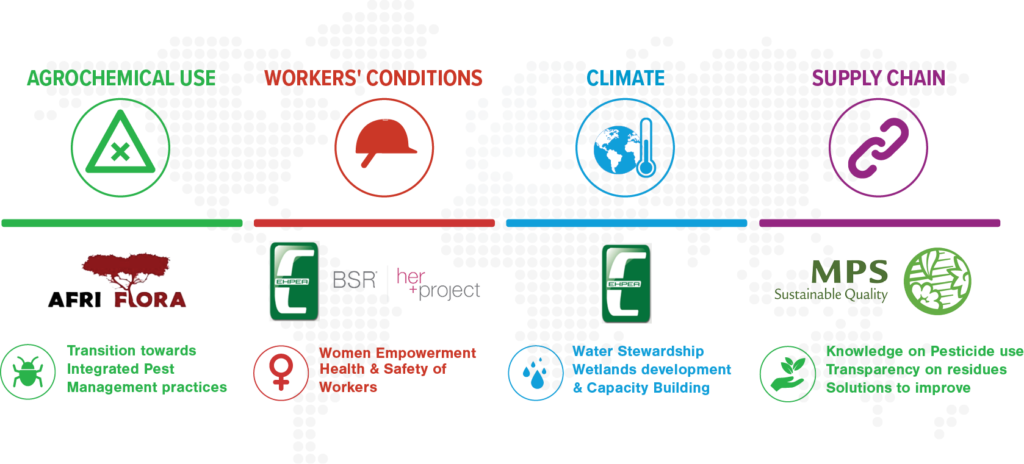 EHPEA (Ethiopian Horticulture Producer Exporters Association) is extending its Women Empowerment program with the continuous support of BSR (Business for Social Responsibility) HERproject, to strengthen the intervention at farm level and ensure long-term behavioral changes. The business case will further link women empowerment to well being and good business practices.
Leading rose grower Arfriflora is partnering with Koppert Biological Systems to increase its Integrated Pest Management practices in Ziway, Ethiopia. The project also stimulates IPM and responsible water use practices towards other surrounding farms and promote large-scale adoption in the region.
MPS partners with other FSI members to raise awareness, increase transparency and get more practical knowledge on responsible agrochemical management. The focus is on sharing experiences and solutions that can lead to stimulating improvements towards a more sustainable and transparent supply chain.
EHPEA will promote and support the implementation of waste water management systems at 15 member farms and build local capacity towards adopting environmentally safe production methods in the region.