A TRANSPARENT AND RESPONSIBLE
SUPPLY CHAIN IN 2025
The Floriculture Sustainability Initiative (FSI) is a market-driven initiative that brings together members of the international floriculture sector. Towards 2025, FSI members will continue to build on the progress made on transparency, responsible production and trade, positive impact and improvement in the floriculture supply chain.
Since 2013 the Floriculture Sustainability Initiative has enabled exchange between leading organizations and businesses in the floriculture sector on sustainability, helping them to progress on this important agenda.
In continuity with what has been the members focus since the start, the FSI2025 ambition is centred around three pillars – responsible production & trade, responsible conduct and integrated reporting – plus the FSI governance framework, providing a comprehensive approach to supply chain sustainability.
TRANSPARENCY — The great variety of standards and certifications in the floriculture sector contribute to higher levels of sustainability. Floriculture standards in the FSI Basket are successfully benchmarked against international basic requirements and legislation.
RESPONSIBILITY — The FSI Basket is used as verified and independent reference for responsible sourcing on Good Agricultural Practices (GAP), Social and Environmental. Producers can comply with the FSI Basket requirements when certified by the accepted standards in GAP (unchanged) and Environmental scopes (new).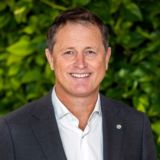 Jan van Dam
Dutch Flower Group
CEO
"We are a frontrunner in the floricultural sector and at the same time we try to inspire other sector members. We truly believe in making ourselves accountable in our collective journey towards a more sustainable and greener world. We therefore need to make our sustainability efforts transparent, impactful and also communicate more about our achievements,
in order to reach our ambitions together."
FSI members are driving improvements on sustainability key topics with the implementation of field and research projects. Results are shared and used within the network to strengthen practices and ensure progress towards the shared ambition.